| | |
| --- | --- |
| Brand | Dell |
| Model | ALIENWARE AREA 51 LAPTOP |
| Color | BLACK |
| Display | 17.3 inch FHD (1920 x 1080) 144HZ G SYNC |
| Webcam | Integrated Widescreen HD webcam with dual array digital microphones TOBII EYE |
| Processor | 9th Generation Intel Core i7 9700K Processor 3.60GHZ |
| Memory | 16GB DDR4 |
| Video | 8GB NVIDIA RTX 2080 |
| HDD | 1TB 2.5 |
| SSD | 500GB M.2 |
| DVD | NO |
| OS | Windows 10 PRO 64Bit |
| Wi-Fi | Killer dual-band AC WiFi - 2x2 |
| Bluetooth | Bluetooth 5 |
| Sound | Realtek ALC3281-CG |
| Battery | 6-cell (91Wh) |
| Power | 300W & 180W AC ADAPTERS |
| Keyboard | US keyboard |
| Ports | Audio connections: 7.1 audio out via HDMI port Video connections: - HDMI x 1 - Mini DisplayPort x 1 Other connections: Miracast USB: - USB Type-C x 1 - USB 3.0 x 3 |
| Lock | 1 - Noble lock |
| Software | Avast Antivirus, adobe reader , spyware |
| In Box | Laptop, charger |
Has original retail box included.
INCLUDED.
Any other peripherals (e.g. keyboard, mouse) or devices (e.g. webcam) will be listed in the specs above if included.
No paper manuals included as Dell no longer includes them, but electronic versions available online from Dell.
CONDITION
New systems, sold by Dell, that were returned by original owner during the 21 day return period.
Completely inspected, repaired, retested, and repackaged to meet original factory specifications.
Typically look brand new with a small percentage having very minor cosmetic blemishes.
Original Dell-branded, non-retail, wholesale packaging.
WARRANTY
All warranties are issued by FYL Direct Ltd for 12 Months
Warranty & Return Terms & Conditions
FYL Direct Price: £2350.00
In stock
The ALIENWARE AREA 51 LAPTOP INTEL CORE I7 9700K 3.6GHZ 32GB 500GB SSD 1TB HDD 8GB NVIDIA RTX2080 FHD SCREEN 144HZ 38PYXT2 is shown in Dell Gaming , Alienware , Laptops , For Work , For Home.
Fast Delivery to Mainland UK
Ask a Question
We happily accept returns within 30 days from date of delivery. All returns must be received in the same condition and packaging we sent them. Postage charges will not be refunded on unwanted products.
You are solely responsible for ensuring the goods are returned to us. We will not be liable for returns that are lost in the post or lost for any other reason. If a product arrives damaged we will advise the customer how to return the item with all return costs covered by us. Replacements & refunds will be dispatched / issued on receipt of the returned items only.
NEW ALIENWARE AREA 51M
WELCOME TO A NEW ERA.
Revolutionary 17-inch gaming laptop with upgradeable, overclockable desktop 9th Gen Intel® Core™ processors and NVIDIA® GeForce RTX™ graphics, plus a magnesium alloy chassis.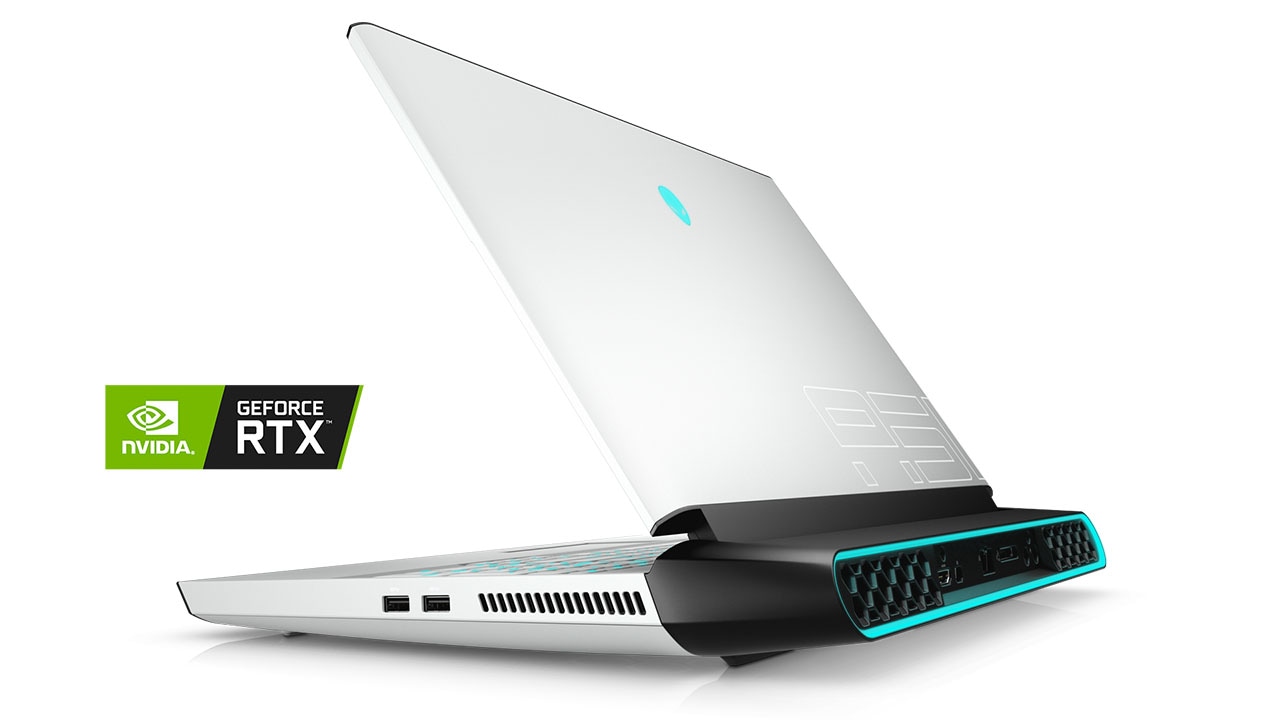 CONSIDER THE GAME CHANGED
The Alienware Area-51m is unlike any mobile gaming machine ever created. With unprecedented desktop-level processing power, CPU and GPU upgradability, advanced cooling and a premium, revolutionary design, a true desktop-gaming experience is now available in the form of a laptop.
DESKTOP POWER PACKED INTO A LAPTOP
The Area-51m features a host of firsts for peak performance and power. It's our first-ever Alienware laptop to feature 8-core, 16-thread Intel® processors, giving it a whole new level of compute power versus other gaming laptops. Engineered with desktop processors, the CPU is enabled with up to 125% rated power, allowing high-end overclocking. This results in higher performance for megatasking, CPU-intensive gaming, as well as day-to-day applications.

Lose yourself in vivid, uninterrupted gaming thanks to NVIDIA® GeForce RTX™ graphics with full-throttle power and up to 30W of overclocking headroom—all on an immersive 144Hz G-SYNC 17" Full HD display. Users can overclock their settings via the new Alienware Command Center.

The Area-51m is also our first-ever Alienware laptop to support up to 64GB of DDR4 memory, ensuring you have enough RAM for even the most performance-intensive tasks.
UNPRECEDENTED UPGRADEABILITY
Gamers have made it clear that they've noticed a lack of CPU and GPU upgradability in gaming laptops.

The Area-51m was engineered with this in mind, finally allowing gamers to harness power comparable to even the highest-performance desktop, and taking advantage of latest technologies from NVIDIA® such as ray tracing, DLSS, and AI enhanced graphics.

CPU upgrades can be done using standard desktop-class processors, while GPU upgrades can be done via onboard graphics module replacement or with the Alienware Graphics Amplifier.
ADVANCED ALIENWARE CRYO-TECH COOLING
Our thermal technology, Advanced Alienware Cryo-Tech v2.0, optimizes component cooling, which maximizes overall performance and keeps your laptop cool to the touch. Here's a closer look at our innovative cooling solution.

Dual-Intake, Dual-Exhaust Airflow Design: The Area-51m chassis prioritizes performance with a dual fan design that pulls in cool air from the bottom and top vents, while exhaling exhaust out the rear and side vents for optimal core component cooling. (The Intel® Core™ i7-8700 with NVIDIA® GeForce RTX™ 2060 configuration does not have a side-exhaust)

High Voltage Driving Fan: The fire resistant, liquid-crystal polymer fan is built with 0.2mm blades, sleeve bearings and 3-phase fan control to create less friction and circulate air more efficiently. The Area-51m fans occupy an area of 95x105mm with a thickness ranging from 19mm to 21.5mm and can push over 25 CFM in open air conditions—something normally seen only in desktops.

Load-balancing Heat Pipes: The dynamics of thermal activity across critical components like the GPU and the CPU are intelligently discharged across various dedicated and shared 8mm and 6mm copper-composite heat pipes. The highest-end configurations carry 7 total heat pipes.

Copper Fin Stacks: The Area-51m features best-in-class surface temperatures, largely due to a thermal module, including four 0.15mm copper fins.Heat is drawn away from the most critical components to prioritize system performance and longevity.

Thermal Control: Cryo-Tech v2.0 ensures that 100% of the system's GPU thermal design power is enabled, while also ensuring CPU-intensive games benefit from high performance.

Whisper-quiet: The cooling system of the Area-51m is so powerful, virtually no noise is heard while engaged in daily tasks.
<
Your Basket
Your basket is currently empty
---
(Click anywhere outside this panel to close it)